July 7, 8, 9, 10, 11, 12, 13, 14, 2009

This trip combines the three "ultimate" dry fly rivers into one great trip – the Clark Fork , Bitterroot and Missouri Rivers ! We will fish these rivers from two venues. The beautiful Double Tree in Missoula will be our home when fishing the Clark Fork and Bitterroot. And, we will stay at a ranch or lodge in Craig , Montana for our floats on the Missouri River and for the Land of the Giants!

Clark Fork and Bitterroot: We will stay at the Double Tree Hotel right on the Clark Fork for four nights while we fish the Clark Fork and the Bitterroot!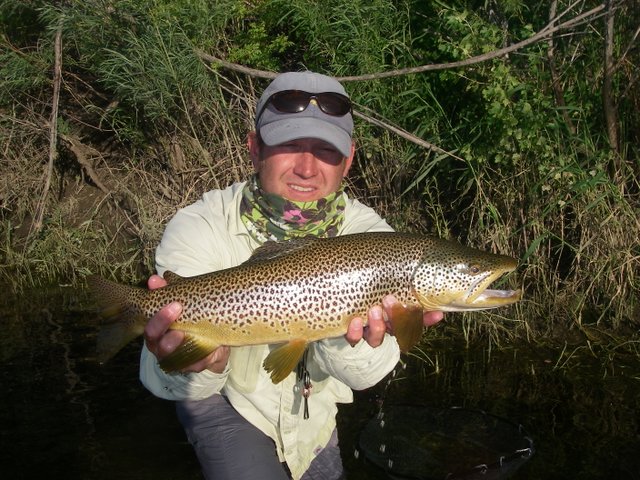 I can't be more emphatic about the quality of the 'rising trout/dry fly sight fishing' on the lower Clark Fork (and the Bitterroot). Big wild rainbows and browns sip mayflies and caddis and zip into your backing. They call these rainbows "firecrackers" and they are by far the "hottest" fish in the West! In the past four years we've been hooking 30 to 40 fish per float - these sipping fish are 17 to 20+ inches. I've made special arrangements so that our floats start , and go until about 9:30 P.M., 12+ hour floats are a rarity in the West. They include our mid afternoon rustic streamside alfresco dining right on the river with grilled elk, beef or chicken with salads, veggies and breads. A bottle of Merlot, Cabernet or Chardonnay (your choice), topped off with a nice cigar, if you wish – it always tastes better on the river. After a well deserved streamside rest on the bank, it's back to sipping trout until dark. The Clark Fork/Bitterroot trip (and the Missouri River trip) are simply the best dry fly 'sight fishing' venues in the world today! And this is the best part – aside from our own party, you will rarely see another boat or wading angler on the Clark Fork the whole day, truly amazing! (Click here to see photos)

.

Accommodations are superb. We stay at the luxurious Double Tree Hotel, right on the Lower Clark Fork and Rattlesnake Creek. From the dining deck you can spot rainbows sipping on the hotel's private acc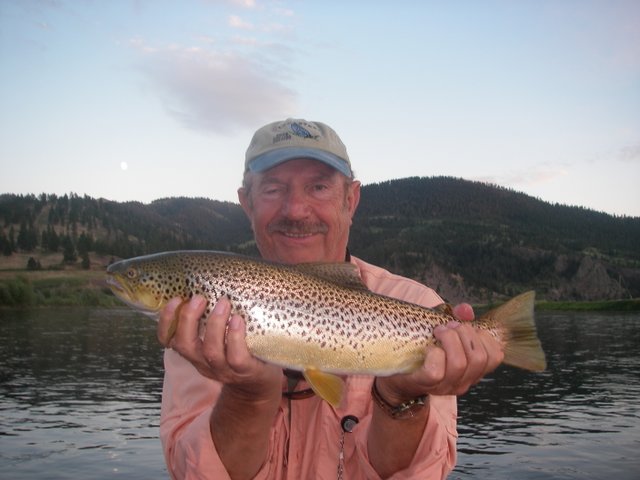 ess water from the 'new' Edgewater dining deck. The food is great and the rooms are spacious with oversized beds, plush furnishings and balconies overlooking the river. Our Missoula, Montana trip is now in its 15th consecutive year. I can't conceive of missing a July trip to Missoula to fish these two great rivers. I've been fortunate enough to do it for over 20 consecutive years!
Missouri River and Land of the Giants: We will stay at a deluxe cabins right on the river or at a lodge on in the Craig area for three nights while we fish the great Missouri! For the 5th consecutive season I've made arrangements so that everyone who signs up for the trip will be able to fish at least one day in the "Land of the Giants" where you will hook 20"-28" wild browns and bows on dry flies or nymphs if you like. This is an area that is difficult to get to and requires special boats, hence, I am relegated to one and sometimes two boats per day. The remaining 2 float days are also incredible, floating and wading what most consider the best ultimate dry fly river, the famous 35 miles of the Big Missouri from the tailwater at Holter Dam to Cascade, where you will sight fish for hot browns and bows 17-23+ inches on "match the hatch" dry flies (click to see Missouri fish photos).
These trips always surpass everyone's expectations, an average of 15 wild rainbows and browns per person, per day on dry flies and more if your skill level is high. The Missouri is a "kick ass" river with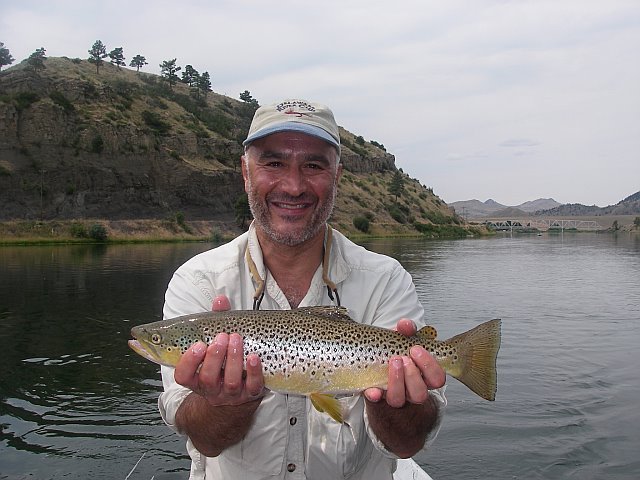 sipping trout all day through dark! Our guides are the best on the river. I have also made special arrangements to float until dark, a rarity on western rivers, where most other guides and lodges fish from . We will float from until , take a break for our main meal and then it's back on the river from Back to the lodge for a night cap and a well deserved rest!
The accommodations, food and wine are excellent. We stay in deluxe cabins or an upscall lodge right on the Missouri . Our food quality is excellent with steaks, chops, roasts, chicken and ribs with all the trimmings, plus homemade baked cakes, pies, muffins, you name it, we have it – and plenty of it. So, it's great fishing, great guides, great food and wine, at the best venue on the river.
Price $3650 for 8 days, 7 nights & 6 floats, all inclusive except for airfare and tips for the guides and staff. $1500 deposit at registration, balance due May 15, 2008 .
Option: $3150, We can reduce the trip for you from a 7 night, 6 day float trip to a 6 night, 5 day float day by arriving on July 8 instead of the July 7. We can customize this trip on both ends to meet your needs.
To register, send a $1,500 deposit to Al Caucci Flyfishing, 1250 Winterdale Road, Starlight, PA. 18461 or call Al or Betti at (570)-635-5897 or email alcaucci@hancock.net for more details.