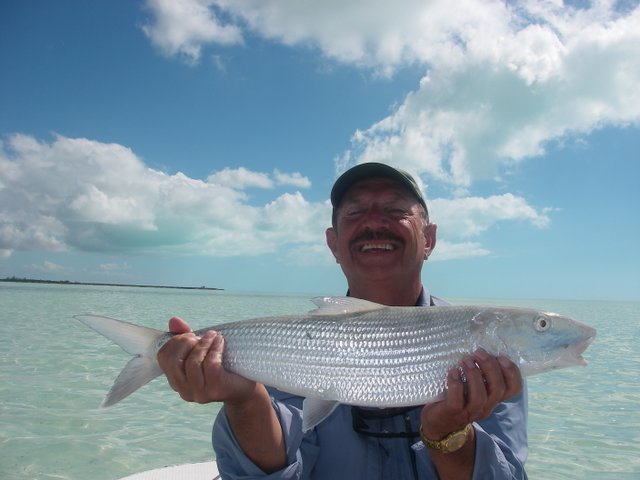 Rig your rods with flies before you step into a boat. This way when your guide stops the boat you are on the bow and ready to fish by the time he makes his first push with the pole. I can't tell you how many times I caught and landed bonefish while someone was struggling to get their rod strung up.
Change your fly or tippet when your partner is fishing. Bone fishing is expensive and time is money, why waste your turn tying on a tippet or fly when you could be fishing.
Always check your knots – a bonefish will break you off very quickly with a poor knot.
Set your drag before you stand to fish and keep your hand away from the reel once a bonefish is on until the bone stops its run. Drag sets are very important! See me on this!
Help your partner manage his line when he is up in the bow and you are sitting down, especially on windy days, the sooner he lands a fish the sooner you can get up and fish!
The best way to share a boat is to establish a time period that you will be in the bow fishing, say 30 minutes. If you catch a fish before your time period ends you should step down and your partner can get up to fish.
Don't rock the boat or make noises on the boat while your partner is fishing for all the same reasons above. I walk on tip toes and try not to make a sound – a thud from the cooler lid can be heard by bones hundreds of feet away.
Stripping and setting the hook is not only critical, it's 50% of the game! See me about this on arrival day.
25 years of hunting big bonefish has developed me into an expert on the subject. I will gladly share these tactics with you at your asking – that's why you pay me the big bucks. Take advantage of the opportunity!
Like most fishing, a great day on the bonefish flats is predicated on weather conditions and the severity of the wind. A 5-15 mph wind is perfect for polling and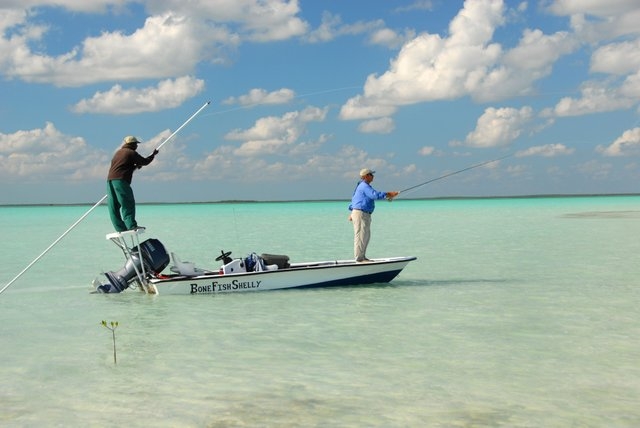 casting. At 15-20 mph it gets a little tougher for both the guide and the caster. I've caught some of my biggest bones in 15-30 mph mainly because I have great (independent, private) guides that can pole the boat in the wind and know how to locate the fish. During high wind conditions you need to cast very tight loops with high line speed……….. Sunlight is also a very important factor. It is very difficult for the guide to see bones if it's cloudy. Fortunately, it is usually sunny or partly cloudy in Andros during the periods that I go to Andros (March – mid April and November). I try to stay away from the hot months (late April- mid October) when the prevailing winds switch toward the south which draws moisture and creates clouds and showers. Bottom line - mild wind and sun, great bonefishing… heavy wind and poor light, it gets tougher.

Rod - #8 or #9 weight, 9 foot. The #8 weight - 9'-0" is the best all around size for bonefish. My favorite bonefish rod is the Loomis GLX (2 piece). The Sage TCR is also super fast! The piece GLX is also very good, but slower. I carry 3 - 4 rods: 8, 9 and 10 weights. You should have at least one extra rod in case of an emergency. The extra rod can be rigged for permit, tarpon or barracuda opportunities - a #9 or #10 weight system would be great for this.

Lines - A weight forward 'bonefish' or 'saltwater taper' floating line with 200 yards minimum 20 lb. backing. I am now using the Scientific Anglers Bonefish Taper and the Wulff Triangular Taper lines with 250 yards of the Gudebrod SST backing. This backing is much thinner and many times more abrasion resistant than the old style dacron backing. This translates into fewer cut off's when the fish run into the mangroves or over coral. Still, bring an extra line on board with you just in case.

Reels

- I believe inexpensive reels are false economy for bonefish. In much too short a time they fail, usually losing a big fish. I use Waterworks, Lamson, Tibor, Billy Pate and Hatch reels – if in stock, we offer 20% off list price for these reels for all participants and 10% off if we special order. The Tibor reels are excellent 'high end' bonefish reels that have a superior drag system and can also be used for large tarpon. Tibor now has a model with a quick change spool that's nifty but pricey.

Leaders - I use 9 or 10 foot leaders with 12 to 16 lb. tippets in the Bahamas for bonefish and permit. I never go less than 12 lb test, But occasionally in real shallow water, I'll add a length of 10 lb. tippet for spooky conditions on very shallow flats.

Flies - Like trout flies, there are hundreds of bonefish patterns. I believe in keeping it simple but effective. The patterns that have been very successful for me in the Bahamas are those that imitate sand crabs and shrimp.

-Hoochy Caucci Bonefish Flies in white, tan and pink - #8, #6, #4, #2. I like the tan flies best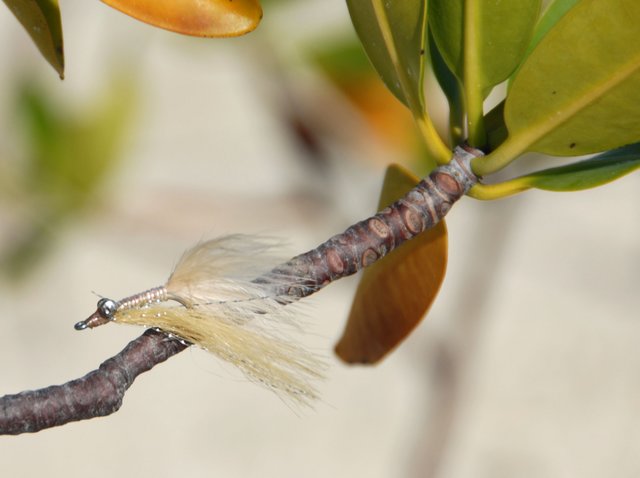 under most conditions, incredibly effective, I use 90 % of the time for mid to big size bonefish, saves me from loosing time changing flies.
-Clouser Minnows are very good- tan/white, chartreuse/white, & olive/white, #2, #4, #6
-Gotcha's are also excellent if tied properly. #2, #4, #6
-Needlefish Barracuda Patterns and large Lefty Deceiver patterns in sizes 2/0 to #2 for barracuda
-Great Tarpon flies are the Classic Cockroach in 2/0 and poppers in the same size.
Note: My bonefish flies have a variety of bead chain and lead eyes, from tiny to large. This will control the sink rate. I would rather use 1 pattern (say a #6 or #4 Hoochy Caucci tan with different size eyes (mini, small, medium lead eyes plus two different sizes of bead chain) than use 6 different patterns. All in all, except for special occasions, bonefish are rarely selective to pattern types. More important is presentation, size, color, proper depth and retrieve. The color of the fly should match the bottom of the flats that you fish. If you want to tie your own flies, get a copy of Dick Brown's, "Bonefish Fly Patterns", which includes the dressings for the flies including the Hoochy Caucci (I don't bother with the epoxy these days)
Accessories - Be sure to bring your medicines, sun protection creams, lotions and chap stick. Fisherman will also need to bring a stainless steel leader sniper, hemostats, needle nose pliers, fly boxes, hook hone, wire cutters, reel lubricant, line cleaner, flies, leaders, and tippet material. I also car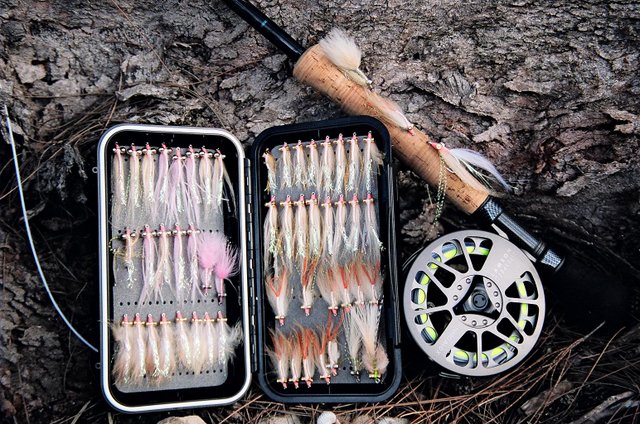 ry a Boga Grip scale to handle and weigh each fish I catch. I can also remove my hook without touching the fish. Prolonged handling removes the protective slime on bonefish and makes them very vulnerable to sharks and barracuda. You will need a waterproof bag to carry your gear aboard the bonefish skiffs, plus a large plastic garbage bag to protect it from rain and salt spray if your boat bag isn't waterproof. A fanny pack for wading can be handy. You should also bring protective covers for your reels to keep sand out.
Particularly convenient are the single or double rod cases that I use to hold two 2 and 4 piece assembled rods and reels safely. I carry them on to the plane and the boat all rigged and ready to go.
Clothing - Shorts, bathing suits and light weight long pants and long sleeve shirts (for protection from sun) are used on the flats. Breathable supplex is available today in most catalogs and shops. An up-downer hat or long billed cap and at least one pair of good polarized sunglasses (preferable with side shields). I prefer amber or brown. I carry two pair, one for running (boat) and another for fishing so they are always clean.
You may wear mesh beach shoes on sand flats or wading shoes by Bite and others for wading on sand or coral type flats and for standing on the bow of the boat. A waterproof rain jacket is absolutely necessary and will keep you dry during a squall or from spray from the boats wake. Spray will ruin most Gortex jackets so I suggest the cheaper PVC and rubber jackets although the weather may be in the 80's during the day, I bring a light fleece jacket which keeps me comfortable on those early morning runs to the West Side.