The Louisiana Gulf Coast, just south of New Orleans, is a fantastic sight fishing venue for some of the world's largest redfish on a fly. On my last Redfish Trip on Oct/Nov 2011 Tony May landed a 40 pound redfish – the biggest I ever saw on a fly. We had great fishing in the Port Sulfur to Venice area where we hooked over 15 reds per day. Many in the 15 to 25 lb class! A redfish over 15 lbs will give you one hell of a pull!
The numbers and size of the reds found in the coastal marsh flats, lagoons and bayous are considered the largest in America.
(Click Here to See Photos)
I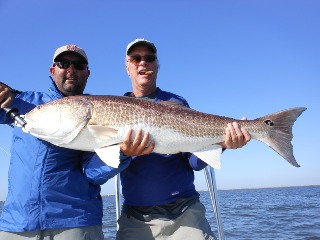 t is stunning how rich, vibrant and full of life these vast flats and channels are south of the "Big Easy". The enormous marsh coastal area seems to go on endlessly to the Gulf of Mexico despite what human development and hurricanes have done to destroy it. I was there only 7 months after the big oil spill in the Gulf and there was no sign of the spill in the marshes, and the area was alive with bait and predators. I was also surprised how vast the Mississippi delta and coastal Louisiana is, offering days of fishing without seeing another fishing boat.
I have hired 3 of the best guides in the Louisiana coastal area who use quick Hells Bay flat boats that allow them to get on the skinniest flats where these cruising and tailing redfish feed. In addition to reds, sometimes called red drum, there are also black drum, which grow even larger than the redfish and also take the fly. All of the fishing is sightfishing to individual fish, small pods or large schools, with floating lines.
8, 9, and 10 weight rods are used for this fishing with appropriate size reels with good drags. A 10 wt is best in a heavy wind. The guides supply the flies but bring along your favorite patterns if you like. 20 to 40 foot casts are all that is needed to hook these redfish. The fish are not shy and if they see the fly they will usually take it. Another great aspect to the trip is that we will be staying at a five star hotel in New Orleans. The J.W. Marriott Hotel is located on famous Canal Street in the French Quarter (1-1/2 blocks from Bourbon St.) right in the center of the best restaurant district in the "Big Easy". So after fishing we can have a great dinner, Louisiana style!
So, it's up early (6 AM), fish until 4 PM, return to our hotel by 5 PM, dinner in the French Quarter in one of the hundreds of famous restaurants New Orleans has to offer.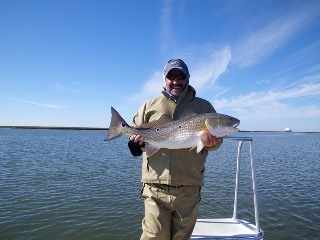 Price for 6 day/5 night, 4 guided day trips is $2950 - that's arrive afternoon of October 28 and depart after breakfast on November 2.
Price for 5 day/4 night, 3 guided day trips is $2490 - that's arrive afternoon of October 28 and depart after breakfast on November 1.
Prices includes: hotel accommodations, 2 persons per large room (2 queens), 2 persons per guide boat, breakfast, lunch on the flats, round trip transportation to coastal flats and hotel (approx 45 min each way).
Not included in price is; air fare, tips for guides and evening dinner in New Orleans (is not practical to make reservations and food choices for a group in New Orleans restaurants, so I decided that dinner reservations will be on our own but of course you can team up with members of the group).
Openings are very limited for this trip so don't hesitate to call or email me as quickly as possible!
To register send a $1000 deposit now to Al Caucci Flyfishing, 1250 Winterdale Rd, Starlight Pa. 18461. Call me if you have any questions about the trip at 570-635-5897 or 570-807-5123 or just email me at
alcaucci@hancock.net