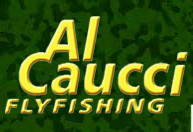 Trips
Montana
Missouri
SW Montana
Clark Fork & Bitterroot
Bahamas
Andros Island
Upper Delaware
Other Destinations
Alaska
New Zealand
Argentina
Chile New Orleans
Redfish



News



River Updates
Hatch Chart



Campground



Tips
Articles
ACFF Photo Gallery



Al Caucci's Biography
Testimonials



Contact Us
Home



Your fishing logs at Ecolure



Friends of the Upper
&nbsp Delaware


Al Caucci Fly Fishing
1250 Winterdale Road
Starlight, PA, 18461

Phone : 1 ( 570 ) 635 - 5897
email : alcaucci@hancock.net




How to tie a Hi Viz Isonychia Parachute
By Al Caucci

Isonychias are a staple on the Delaware System from June through September. This version is tied with heavy hackle to keep it floating and an orange post for low light visibility fishing.



Materials
Hook: Daiichi 1280 - size to match natural
Thread: Uni 6/0 Rusty Brown
Tail: Split Fibbets
Body: Caucci/Nastasi Mahogany Spectrumized Dubbing
Wing: Orange Hi Viz
Hackle: Dark Dun

1. Wrap hook shank with tying thread as indicated, tie in fibbets and split with a figure eight wrap, then wind thread forward to 1/3 behind the eye.




2. X wrap the Hi Viz in on the bottom of the hook like a spinner wing (view is bottom of hook shank).




3. Pull both sides of the Hi Viz to the top of the hook and wrap as a post.




4. Tie in two oversized hackle feathers (shown are #8 hackles on a 12-2xl hook).




5. Dub the body to just in front of the parachute post.



5. Wrap both feathers around the post- the more wraps the better. Tie off the hackle at the base of the post and trim.




5. Push the hackle out of the way, finish dubbing to the head, whip finish.