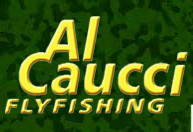 Trips
Montana
Missouri
SW Montana
Clark Fork & Bitterroot
Bahamas
Andros Island
Upper Delaware
Other Destinations
Alaska
New Zealand
Argentina
Chile New Orleans
Redfish



News



River Updates
Hatch Chart



Campground



Tips
Articles
ACFF Photo Gallery



Al Caucci's Biography
Testimonials



Contact Us
Home



Your fishing logs at Ecolure



Friends of the Upper
&nbsp Delaware


Al Caucci Fly Fishing
1250 Winterdale Road
Starlight, PA, 18461

Phone : 1 ( 570 ) 635 - 5897
email : alcaucci@hancock.net




How to tie a Compara- Spinner
By Al Caucci



Materials


Hook: Daiichi 1180 or 1280- size to match natural
Thread: Uni 6/0
Tail: Micro Fibbetts
Body: Caucci/Nastasi Spectrumized Dubbing to match natural
Wing: Hackle

1. Wrap hook shank with tying thread as indicated, then tie in microfibbetts and split the tail as shown (Top view shown).




2. Wind a tapered dubbed body as indicated. Note: make sure dubbing is sparse and body silhouette is slender. Tie in hackle for wing (One for smaller flies and two hackles for larger hook sizes). Wrap sparser for flat water flies and thicker for faster, broken water.




3. Continue to dub to within 1 1/2 hook eyes.




4. Wind the hackles forward like a standard dry fly and whip finish.




5. Cut hackle flat on the top and bottom of the fly (Top view shown).