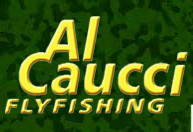 Trips
Montana
Missouri
SW Montana
Clark Fork & Bitterroot
Bahamas
Andros Island
Upper Delaware
Other Destinations
Alaska
New Zealand
Argentina
Chile New Orleans
Redfish



News



River Updates
Hatch Chart



Campground



Tips
Articles
ACFF Photo Gallery



Al Caucci's Biography
Testimonials



Contact Us
Home



Your fishing logs at Ecolure



Friends of the Upper
&nbsp Delaware


Al Caucci Fly Fishing
1250 Winterdale Road
Starlight, PA, 18461

Phone : 1 ( 570 ) 635 - 5897
email : alcaucci@hancock.net




How to tie a Compara-CDC- Emerger The AARP FLY
By Al Caucci

Big wild trout love eating bugs that can't fly away as they approach. More and more of our fishing is done with emergers as trout frequently prefer this more vulnerable stage of the hatch to the actual duns. My emerger pattern also doubles as a cripple or stillborn and can be used successfully during and after the hatch. Give them a try and I'm sure you'll be impressed. This pattern works great in low light and glare situation where its hard to see the deer hair Compara-Emerger.

Materials
Hook: Daiichi 1130 - size to match natural
Thread: Uni 6/0
Tail: Antron or Z lon
Body: Caucci/Nastasi Spectrumized Dubbing to match natural
Wing: Stripped CDC fibers

1. Wrap hook shank with tying thread as indicated, then wind in a medium bunch of z-lon to create a shuck.




2. Wind a tapered dubbed body as indicated. Note: make sure dubbing is sparse and body silhouette is slender.




3. Strip the fibers off cdc feathers. Attach CDC with X wraps, pull the cdc ends upright and loop like you're forming a parachute post.

Click here to Step 3 Details






4. Dub in the thorax around the base of the cdc tie in point, whip finish and trim the tread.




5. Pull the tips of the cdc fibers up and trim. it should bush out. This works especially well when the trout are taking the emergers just a few inches under the surface film.